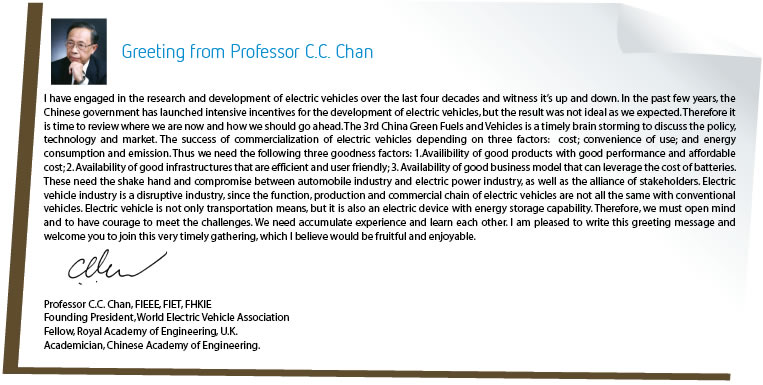 Welcome to the 3rd Green Fuels & Vehicles China 2012!


As one of the top platforms that unite top level business people, the event will continue to share business intelligence and bring new opportunities to found new partnerships. This year's event includes several brand new features such as Partnership Building and exclusively designated meetings.
Through our event, attendees will have a clearer idea of the problems of the industry and explore some practical solutions. Also with the advent of new wave of technologies in automotive technologies, everyone will take a closer look at the future, hence gaining new insights into the trends and commanding new heights.
Learn the Future Roadmap of New Energy Vehicle
Hear the policy makers' prediction of national plan and analysis of latest charging standards
Find the Technologies You Need and Get to Know the Competence
See the hardware and software developers demonstrate their technology. Learn and discuss the specifics with them
Find Markets for your Products
Understand the recent opportunities and meet potential clients by networking and partnership building
Make the Right Move to cooperate with Power Suppliers
Learn the status quo of battery swap stations; evaluate the profitability of E-bus or E-taxi
Adjust your Strategy and Learn from Bellwethers
Major players share successful experiences and talk about suggestions.
Speed Networking and Exclusive Ad Hoc Meeting
We provide efficient opportunities for networking, targeted meetings on invitation basis and exclusive 2-3 people meetings
Previous Sponsors and Event Partners

Previous Eminent Speaker Panel Includes